Watch DVD Movies and Videos on iPad
Back
From iPad screen, experience the best media lifestyle
Soon after Apple released iPad, Xilisoft Corporation also unveiled its iPad tool - DVD to iPad Converter and iPad Video Converter, which rip DVD and convert videos to iPad video formats.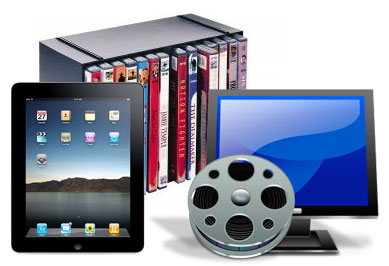 Since Steve Jobs announced the long-waited Apple iPad and presented it as being revolutionary and magical, iPad has attracted much attention. It can be used for video and features YouTube (in HD), but you got a new iPad and want to play DVD movies or home videos on your computer. What a frustrated thing is that iPad can't play DVD as it doesn't have DVD-ROM or the video format is not supported by iPad. Luckily, Xilisoft DVD to iPad Converter and iPad Video Converter are designed to do you a favor. They rip DVDs and convert videos to iPad compatible video formats, that is, H.264 and MPEG-4 formats. Moreover, the DVD audio can be ripped to iPad audios using the DVD to iPad converter.
For the great movie experience, the DVD to iPad converter and iPad Video Converter provide you with editing tools. You can freely edit DVD movies and videos: split file to only watch the segment you want, customize output parameters to get the best results, preview DVD movies before ripping, and so on. More you can do with Xilisoft DVD to iPad Converter and Xilisoft iPad Video Converter. It's absolutely indispensable for you to watch DVD movies and your favorite videos on iPad.
For more specifications about Xilisoft DVD to iPad Converter and iPad Video Converter, please visit:
http://www.xilisoft.com/dvd-to-ipad-converter.html
http://www.xilisoft.com/ipad-video-converter.html
Pricing and Availability
Xilisoft DVD to iPad Converter and iPad Video Converter, your best iPad tools, are ready to help you watch DVD movies and videos on your iPad. You can get them directly from Xilisoft on www.xilisoft.com at Mar. 9th, 2010.
About Xilisoft
Xilisoft is a professional software company dedicated to the research, development and producing of digital video and audio solutions. Established in 2004, Xilisoft has focused on delivering high-quality, easy-to-use, innovative and fast time-to-market digital multimedia solutions with a solid reputation. Xilisoft's award-winning product line ranges from the powerful video/audio converter, advanced DVD copy/authoring solution to various media device tools.
Furthermore, Xilisoft has successfully expanded our product portfolio by exploring new consumer-oriented software like personal information management tool, spyware remover, etc. Our products are available worldwide in English, Japanese, German, French, Italian and Chinese, for both Microsoft Windows and Apple Computer's Mac OS X platforms. Xilisoft has also built up an effective marketing network comprising of Xilisoft global websites, local sales agents and resellers.