You take your music, coffee, and burgers to go, so why not get your YouTube videos to go?
Xilisoft.com has introduced the YouTube Video Converter, a unique piece of software that allows you to download videos from YouTube and instantly convert the YouTube videos into a format suitable for your iPhone, iPod, or any other multimedia device. This can come in handy since we live in a fast paced world where everything is on-the-go, and with the ever growing popularity of iPhone, PSP, and other portable multimedia devices, we can now watch our movies, TV shows and video clips on-the-go as well. YouTube.com is the biggest video sharing network on the web, and every day millions of people log on to view random video clips, but it's not so easy to watch YouTube on-the-go. Xilisoft YouTube Video Converter is a simple solution for YouTube users to simply log in, download a bunch of videos, and put them on your iPhone to watch at your own convenience.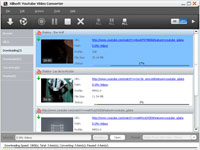 Remember how 20 years ago our main video source was the VHS tape and the amount of media was extremely limited? Yes, that was a much simpler time. Then YouTube came along and suddenly millions of media are available to the masses: so many videos and so little time. Well, simply queue all the videos you want and let it download automatically. Xilisoft also offers the Download YouTube Video for free, making it easy for you to save all your favorite videos.
There are plenty of web applications that allow you to download YouTube Videos, and there are also plenty of programs that can convert videos, but Xilisoft YouTube Video Converter offers an all-in-one kind of deal, just to make things easy. As the CEO of Xilisoft, Stan Chou, stated, "With so many multimedia formats out there, it's becoming more and more confusing for users, so our goal is to make viewing and sharing multimedia easy for everyone."
About Xilisoft
Xilisoft is a software company that offers multimedia conversion solutions. For over 6 years, Xilisoft has been striving to bring you the latest and most innovative software products to enhance your multimedia life. Currently, Xilisoft offers a variety of products to help users with any video or audio format conversion. For more information about the company and its products please visit www.xilisoft.com