Xilisoft Corporation released Mac versions of YouTube software. The announcement includes YouTube Video Converter for Mac, YouTube to iPod Converter for Mac and Download YouTube Video for Mac.
Building on the advanced transcoding technology, the 2009 edition adds YouTube video browser and proxy server downloading that feature quick browsing, convenient use and fast downloading.
Unlike website online YouTube downloaders and converters, YouTube series for Mac is a full YouTube downloading and converting solution. It not only downloads online YouTube videos to your Mac, but also converts the downloaded YouTube videos or local FLV videos to your device supported formats, such as iPod/iPhone H.264, BlackBerry MPEG-4, Xbox 360 WMV, Zune WMV and more.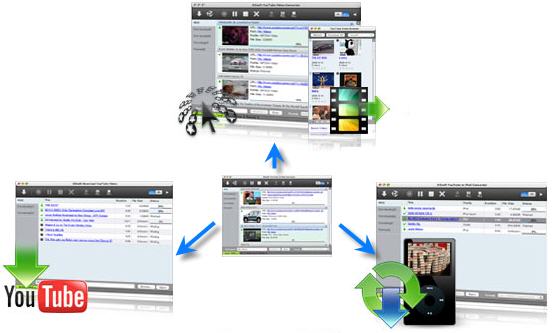 Since June 2007, YouTube's videos has been available for viewing on a range of Apple products, and YouTube videos can be watched directly on iPod touch, iPhone when WiFi wireless connection is available. But most of circumstances, there is no wireless network, for example, on the road, on the plane, at school, on the boat, on the hill, in a hotel or other places. For those who had experienced such an embarrassing position in these places, YouTube product series for Mac will be your best choice to let you have a fun with your favorite YouTube videos.
Now, only a few clicks of mouse, YouTube video downloading and converting is easier and more convenient than you can expect. Pretty well, you don't have to view YouTube videos on website interface. Download them and convert to the device you own with the YouTube series. Go portable with YouTube videos.
For more information about YouTube series for Mac, please visit:
http://www.xilisoft.com/youtube-video-converter-mac.html
http://www.xilisoft.com/youtube-to-ipod-converter-mac.html
http://www.xilisoft.com/download-youtube-video-mac.html
Pricing and Availability
Xilisoft YouTube product series for Mac is a must-have tool for YouTube and Mac users to enjoy YouTube videos anytime anywhere. You can get YouTube Video Converter for Mac for $29.95, YouTube to iPod Converter for Mac for $25.95 and Download YouTube Video for Mac for FREE directly from Xilisoft on www.xilisoft.com on Dec. 21st, 2009.
About Xilisoft
Xilisoft is a professional software company dedicated to the research, development and producing of digital video and audio solutions. Established in 2004, Xilisoft has focused on delivering high-quality, easy-to-use, innovative and fast time-to-market digital multimedia solutions with a solid reputation. Xilisoft's award-winning product line ranges from the powerful video/audio converter, advanced DVD copy/authoring solution to various media device tools.
Furthermore, Xilisoft has successfully expanded our product portfolio by exploring new consumer-oriented software like personal information management tool, spyware remover, etc. Our products are available worldwide in English, Japanese, German, French, Italian and Chinese, for both Microsoft Windows and Apple Computer's Mac OS X platforms. Xilisoft has also built up an effective marketing network comprising of Xilisoft global websites, local sales agents and resellers.